We Build Progressive Artificial Intelligence Driven Solutions That Last
AI is remodeling the way we live today. That's why it has become a trend among organizations to opt for Artificial Intelligence (AI) development. This technology not only brings speed to the work environment, but it also increases efficiency and accuracy of the work being done. Diversifying its roots to cognitive computing, deep learning, machine learning with natural level interaction, AI is empowering humans to rethink the way they do business.
Vee Technologies has taken great strides to develop and implement practical solutions for enterprises worldwide. Capitalizing on the evolving ecosystem of AI, we started developing cutting-edge solutions enabled with complex AI algorithms to meet the growing needs of our clients. Our knowledge and expertise in the broad spectrum of all programming languages that drive AI are the driving force behind our success.
Vee Technologies Technical Proficiency in AI
Sensing a shift in the need for intuitive AI solutions across a growing global economy, Vee Technologies hired the brightest and most forward-thinking AI developers to create the foundation that our platforms are built upon, these same developers are still with the company today to meet your growing needs.
Our knowledge base includes:
Python: In-house Python experts enable the development team to handle the mathematical and statistical part of AI programming efficiently
C++: Utilizing C++, the fastest programming language allows us the capability of writing complex codes quickly and efficiently
Java: Java expertise ensures that the solutions we build run across multiple platforms seamlessly and in a full-featured form
LISP: Flexible LISP programming knowledge renders the power to develop problem-solving code into our projects
Reinforcing AI Into Our Core Services And Your Processes:
At Vee Technologies, we have always focused on building efficient and cost-effective solutions. AI-powered solutions are in complete harmony with the company vision of developing solutions that augment human skills and free up resources for more technical work.
Our team of AI developers continuously test new software and techniques to master:
Machine Learning
Neural Networks
Predictive Analytics
Deep Learning
Natural Language Processing
Our skill set in AI frameworks like TensorFlow, Café, and Torch add to our bag of AI development tools.
Bridging The Gap Between Technology And Human Interaction
Vee Technologies tailors our suite of Artificial Intelligence development skills to continuously meet and expand upon our client's needs. Our industry-leading solutions span multiple domains with high-end precision and accuracy:
Finance
A team of dedicated developers are capable of delivering financial insights and expansive solutions to meet your growing needs. If you have an innovative business idea to develop, partner with Vee Technologies to shape it into digital reality.
Healthcare
Our AI-powered solutions are crafted to suit the ever demanding healthcare industry. With massive amounts of patient data that needs to be restructured, and increasing competiton throughout the industry, Vee Technologies is here to offer the support necessary to provide valuable insights into your patient population.
Communication Channels
From voice-powered solutions to support for lingual diversity, we are proficient in developing solutions that mimic natural language. Our image recognition platforms and product recommendation engines enhance sales delivery and modernize communication channels.
Related Articles
---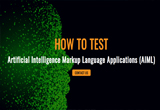 In the age of AIML, most companies' websites and applications have a chatbot channel of their own. They're relied upon to further the reach of businesses and help interact with their leads, customers and clients quickly and in a more conversational way. Read more
---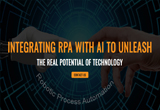 Artificial Intelligence (AI) and Robotic Process Automation (RPA), two of the most exciting technologies of modern times, are on the verge of merging.