The trend in businesses is shifting. Businesses are transitioning from written to electronic data. This provides greater convenience, security, speed, and ease of collaboration. With different software systems being implemented for various purposes, it's becoming important to have a standardized way of transferring the data across all of software applications. This is called EDI, or Electronic Data Interchange.
There are different types of freight documents such as purchase orders, bill of ladings, freight bills, and invoices. Billing and shipping data is generated with the help of standardized data sets, our EDI implementation services support numerous standardized sets that are used in the logistics industry.
Accessible anywhere in the world, our EDI product can be custom-suited to meet the specific requirements of your business.
Our integration services offer the following benefits:
Streamline business processes
Save time from data entry
Increased efficiency
Shorter payment cycle
Reduction in personnel required for data entry
Reduction in on-site inventories which translates to more space and better organization
Ordering cycle reduction
Enhanced relationships with trading partners and customers
Related Articles
---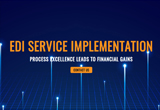 With consistent success and significant growth, a global insurance provider was needing a strategic partner who could help them convert all their daily medical receipts received from members around the globe into a standardized EDI 5010-837 format.
---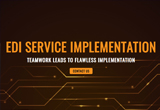 As a consequence of exponential growth, a nationally recognized leader in the health insurance industry was looking for a partner with broad industry experience and a deep understanding of the EDI process.