Efficiencies, outcomes, and growth drive business imperatives for payers. A complex and changing healthcare environment challenges those goals. Managing high-risk and rising-risk patients' care continuum, automation, and reducing rates of human errors are keys to reigning in expenses. Vee Technologies has been delivering extraordinary outcomes for payers that meet these exact needs. With the move toward value-based payment structures, payers are focusing on developing new business models, enhancing IT capabilities, building a better care coordination infrastructure, and lowering administrative costs.
We offer core and ancillary business process management (BPM) and knowledge process management (KPM) support services across the payer spectrum: claims management, member management, provider network data management, contract management, finance, and accounting.
Our IT services and consulting speed time to market, lower ownership costs and increase ownership values for our payer clients. Our analytics solutions have helped our payer clients translate data into knowledge and provide meaningful insights for actionable business decisions. We deploy data mining, statistics, modeling, machine learning, and artificial intelligence to make predictions about likely business outcomes that help clients sustain their competitive advantage.
Our payer talent team includes BPM, KPM, subject matter experts, former employees of payer organizations, IT professionals who work on cutting-edge technologies, data scientists, and analytical thinkers who live inside the data. We align closely with the business needs, goals, culture, and core values of our clients.
The accuracy of medical coding directly impacts the revenue of healthcare providers. With an ever-changing healthcare landscape and regulatory updates that occur almost daily, it is imperative to stay on top of all industry changes in order to maximize revenue and maintain compliance.
Our claims BPM and KPM services lead to significant reductions in cost and TAT (turnaround time) through integrated process redesign and technology innovations.
Our member enrollment services reduce the administrative burden and cost to support member enrollment processes.
Our provider network data management process mitigates increased labor costs due to the enhanced complexity of provider payment arrangements
Related Articles
---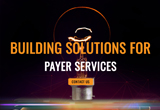 Vee Technologies needed a tool for managing and navigating the tumultuous payer services market for a client. They needed to identify a way to support multiple disciplines in one, consistent, uniform tool.