With slimmer margins and a constantly evolving regulatory landscape, healthcare systems, physician practices, and hospitals are expected to provide optimal services amidst increasing financial pressures. Revenue cycle issues, clinical errors, and negative contracting language impact not only the operational workflow of a healthcare organization but could cripple the organization financially. One misstep at the beginning of the scheduling process could negatively impact the claim throughout the entire billing process. As these issues begin to compile, a lack of resources necessary to make corrections will begin to have a negative financial impact.
Vee Technologies possesses a deep knowledge of best practices in revenue cycle management, clinical review, and provider education, and we utilize this expertise to deliver high-quality and cost-effective solutions for our clients. After a thorough review of your current processes, our advisory and consulting experts will identify operational nuances that are negatively impacting your bottom line and offer solutions and technology to increase workflow and productivity.
We offer comprehensive advisory and consulting services that help you identify opportunities and provide custom solutions to develop a clear culture of accountability to assure optimal revenue performance:
Process improvement
Robotic Process Automation (RPA)
Provider education
Technology consulting
Risk contracts consulting
Chart retrieval
HCC capture
Quality measures consulting
Coding audits
Clinical documentation improvement
Clinical abstraction
Committed to providing practical solutions, we help reduce operational costs, increase cash flow, and improve patient satisfaction. Through a blended model of technical expertise and operational business workflows, we help you achieve transformational and sustainable results.
Related Articles
---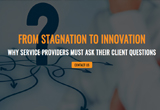 When faced with a problem, do you immediately get to work trying to solve it? If you are like most of us, your focus is on finding answers quickly rather than spending time asking clarifying questions.
---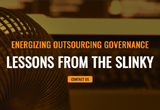 Remember playing with a Slinky as a child? Wasn't it fun watching this simple spring-powered toy perform somersaults down the tallest staircase you could find?